Danny Choo's "Smart Doll" on the Verge of Bringing Chobits to Life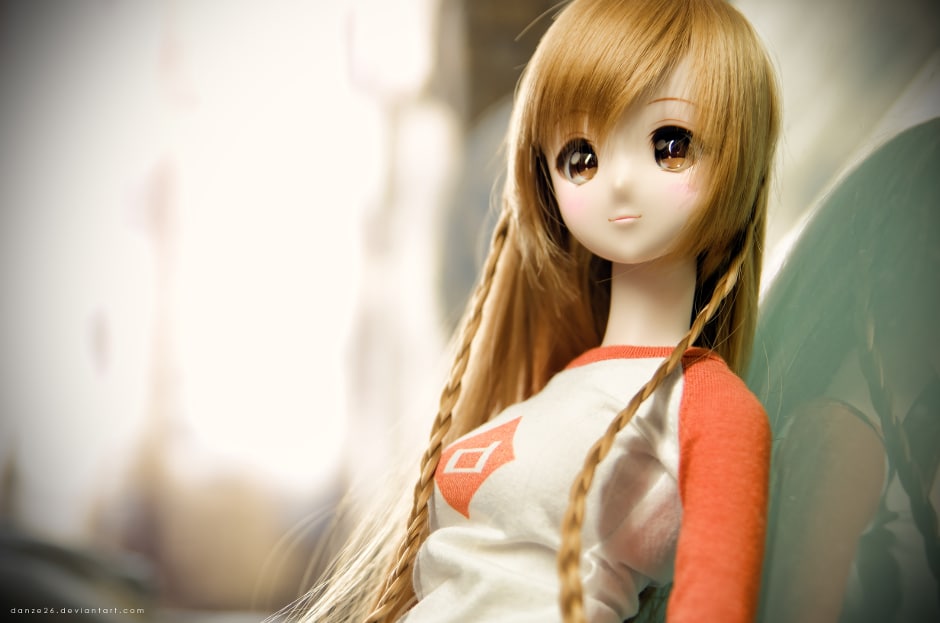 A fan of figurines? Or have you always thought that anime figurines were too garish and extravagantly dressed? A few years ago, Culture Japan brand creator Danny Choo sought to remedy this by creating a line of fashion dolls 60cm long, with eyes and face reminiscent of anime figurines, yet oddly… realistic. Today, he is actively working on a 4-foot tall robotic version of the original Smart Doll, powered by your smartphone and able to help with household tasks.
What Sets Smart Dolls Apart?
First, let's take a look at the original Smart Doll released in June 2014, which sells for a whopping $600, and is now so popular that there is up to a 6-week wait for delivery.
The Height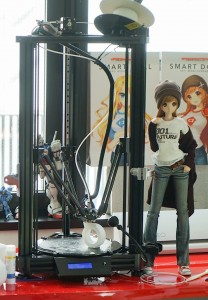 60cm is 23.622 inches, which is just shy of 2 feet tall. That is tall! Many typical action figures are 7in (approx 18cm) or 13in (approx 33cm) and are often around 1/7 or 1/8th scale, which means that they are proportionately 1/7th or 1/8th the size of a real person. The absolute biggest you'll find is probably around 1/5th scale, and those are already rare. Even the standard Barbie doll in the U.S. is 1/6th scale at 11.5 inches tall. 2 feet however is a full 1/3rd of a 6-foot tall person!!
With a doll that's essentially double the size of a typical doll, Smart Doll is able to use a different form of construction known as a "ball-jointed doll," with actual joints and sockets similar to that of a human's, sometimes described as "eerily lifelike."
The Clothes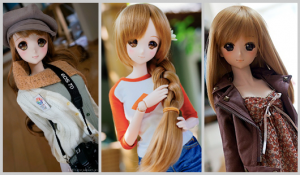 Action figures and anime dolls are known to have a wide variety of outfits, ranging anywhere from virtually nothing to crazy conglomerates of wings and tails and frills, depending on the story they were taken from. Smart Dolls, however, are marketed as "fashion dolls," and their clothing line of jeans, tops, hats, and cardigans are reminiscent of the casual fashion of the 90s and early 2000s, more toned down even than Barbie, whose everyday clothes still give off the air of a prom queen. This widens its appeal to the everyday audience, while still keeping it accessible for hardcore fans who can easily dress Smart Doll up into fancier outfits (or even handmade outfits!) as they please.
The Face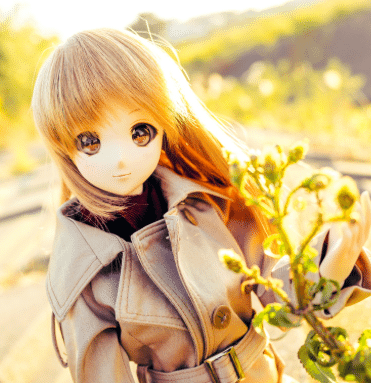 The Smart Doll's face is created using a method called Slush Casting, which introduces small intentional imperfections. To quote Choo:
Most folks who design faces in 3D would model one side of the face and then mirror it to the opposite side which in theory should look OK but in reality gives an unnatural alien look – this is because we are accustomed to looking at asymmetrical faces in daily life.
Essentially, this is why the Smart Doll's face looks creepily realistic whereas Barbie's face has that "plastic" look to it which you can never quite put your fingers on. Additionally, I want to note that the Smart Doll's head tends to be relatively proportionate to its body compared to an actual human, whereas many dolls tend to have somewhat oversized heads for emphasis.
The Stand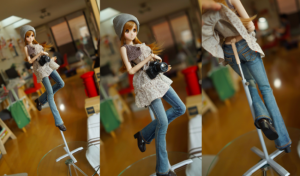 The location of the socket on the doll to put it on a stand is unobtrusive, and coined the "Smart Support Socket" by Choo. The reason for this is that typical dolls have either a saddle or a C-waist stand, both of which actually wrap around the doll in order to hold it in place, but which of course leaves an ugly circular band around your doll. Compared to that, the Smart Support Socket is a tiny hole on the back of the doll which is hardly noticeable once the doll has been mounted.
Choo's company currently provides two stands which can go with the Smart Support Socket, the Telescopic Stand (included) or the Air Stand (sold separately).
Smart Doll Plus, 4-foot Tall Home Security Robot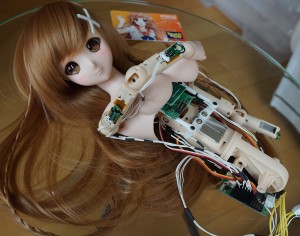 Despite the resounding success of the initial Smart Dolls that were released (Danny Choo could probably make a fortune just releasing more doll designs, clothes, and accessories), Choo has bigger plans in mind. Armed with the new ATOM 3D Printer which is over 2 feet high and able to print parts much larger than before, he plans to make a new Smart Doll that is powered internally with Android parts, for which he has some pretty cool ideas already planned out. Some of these ideas include:
24/7 Internet access for whatever info you may require
Ability to walk around on its own
Ability to pick up objects that it can recognize via built-in AI
Connection with various home devices, such as Dropcam and Nest
Self-defense tools such as pepper spray and 1000v stun-gun (nothing lethal)
The new Smart Doll Plus will be twice the height of the old one and weigh 16.5 kgs, which is almost 40 lbs. Of course, since it should be able to walk on its own, the weight shouldn't be too big of a problem.
Danny Choo cites Chobits as part of his inspiration for creating the Smart Doll Plus.
There are many reasons why I have decided to shift the company's focus and continue developing the robotic version as Smart Doll Plus instead. The reasons are as follows:-Chobits is a very popular anime outside of Japan and many who watched it have written to me saying how a 1/3 scale robot doesn't cut it and that it needs to be the size of Chii or at least half her size.
While there is no clear-cut release date as of yet, one thing is clear. Danny Choo is a visionary, and he's going to stop at nothing to make his dream into a reality. He has claimed that he envisions the Smart Doll Plus to be "the future of home appliances," becoming as widely accessible and used as the smartphones of today.